Four reasons why young people are needed at this year's International AIDS Conference
We have a lot to celebrate at this year's International AIDS Conference in Amsterdam.
We now have the knowledge of how to prevent infections, how to treat people living with HIV and who to prioritize in the response. All global leaders have made the promise to end AIDS by 2030, but we still have a long way to go.
Over 2 million people became infected with HIV in 2015 alone, and although there are now 17 million people accessing treatment, 20 million people are still waiting at a time where our leaders are taking their eye off the ball. As Youth Stop AIDS' campaign that is putting HIV back onto the global agenda says: It Ain't Over.
The International AIDS Conference is taking place on July 23rd -27th in Amsterdam. It is the largest conference on any global health issue in the world, provide a unique forum for lots of stakeholders like Governments, health researchers and activists. The conference aims to bring together experts, promote human rights based approaches and galvanize political commitment to the HIV response.
With the exciting news that Youth Stop AIDS is partnering with the Department for International Development (DFID) to recruit and support a young person to join the official UK delegation to the conference – today I'd like to give you four reasons why young people's involvement is vital at this year's conference:
1. Young people are hit hardest by HIV&AIDS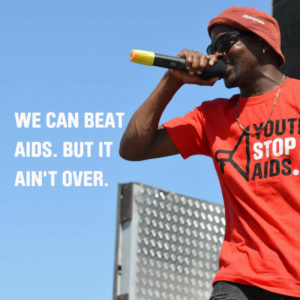 Despite huge progress in the fight against the epidemic, young people are still disproportionately affected by HIV & AIDS.
AIDS is now a leading killer of young people and we're the only demographic where HIV infection rates are actually increase. And from February's Speaker Tour, we know that young people from marginalised groups too often find their human rights and access to equitable healthcare systematically violated. Just take sex workers who are ten times more likely to contract HIV compared to the general population.
Young people are too often sidelined in international summits but as a demographic that is  dispropiantally affected by HIV – surely we have the right to be at the heart of this conference and the HIV response?
2. Young people are the solution.
Yes young people are disproportionately affected by HIV & AIDS, but we believe we are also the solution to ending the epidemic. As the response struggles to curb adolescent HIV infection rates, it is more crucial than ever than ever to support young people to lead the response – as leaders, partners and advocates.
As we're the demographic most affected, our unique perspectives are critical to informing how to prevent HIV transmission in young people, how to end AIDS-related deaths in young people, and how to ensure that young people living with HIV do not face stigma and discrimination.
So for any discussion at the International AIDS Conference, it's vital that young people are meaningfully involved because our unique perspectives and involvement could change the course of the epidemic.   
3. Young people are leaders

If you need proof that young people are ready to be leaders in the HIV response, all you have to do is look at history and what is already happening across the world.
Young people have proven themselves throughout history as drivers of positive systemic change, and have been at the heart of the AIDS response since the beginning. Whether it's leading the access to medicines movement of the 1990s or demanding that Governments run human rights based HIV responses – young people's ideas, skills, innovation, passion and energy have been key catalysts of the progress in the HIV response so far. More than ever the leadership of young people remain crucial if we're to reach the target of ending AIDS by 2030.   
4. It's time for us to connect.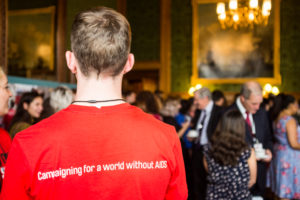 With so many amazing young leaders and youth-led movements already doing vital work in the HIV response, the International AIDS Conference gives us an incredible opportunity to: connect, learn and strengthen our movement.
As the Youth Stop AIDS Coordinator, I have the privilege of meeting and working with inspiring young activists who I have learnt so much from. Youth Stop AIDS is a youth-led movement based in the UK that works to achieve a world without AIDS and is led by youth activists and regional groups.
In our relatively short history we've had some big wins that increased global access to essential medicines, put HIV back onto the agenda and helped ensure key groups weren't being left behind in the HIV response. But this is just us. Across the world in the HIV movement there's countless examples of inspiring youth-led groups and activists doing game-changing campaigns, research and programmes for the HIV response.
Just imagine if the International AIDS Conference could facilitate a space for us to connect and mobilise – this could genuinely unleash the power of young people.
How you can be involved
Young people have the right, passion and expertise to be leaders in the HIV response. So today we're excited to be launching applications to recruit a Youth Delegate who will join the official UK Government delegation to the International AIDS Conference in Amsterdam.
Being the Youth Delegate will be a hugely rewarding and invaluable experience. It'll involve speaking at and participating in conference events, shadowing members of the UK delegation, attending side events and sharing experiences from the conference through media and comms.
If you're a young person (under 25) from the UK who has a clear passion and skill for taking action in the HIV response and is ready to do something special this summer – we want to hear from you. You've got until Wednesday 18th April to tell us a bit about yourself and why you want to be the Youth Delegate here.
That's the Youth Delegate but watch this space as over the next few weeks Youth Stop AIDS is going to give you lots more exciting opportunities to be involved with the International AIDS Conference…..
But until then keep up the good fight!