The Steering Committee are a small group of Youth Stop AIDS campaigners who sit between Restless Development and Stop AIDS and the wider campaign network. Our role is to offer support and guidance to Youth Stop AIDS campaigners and make sure that their voices are heard by the organisations we work with. As a group we help set the campaign focus and support the network, whether that is individual campaigners, groups, societies or regional clusters.
Our aim is to have a fully inclusive, values led and impactful campaign. We do this by encouraging creativity, strategic action, transparency and partnerships. We also want every individual involved with Youth Stop AIDS to feel valued, because they are, so we are committed to offering personal support where ever possible. As individuals we all have specific areas of interest and expertise and work in partnership with Restless Development staff to ensure that these are utilised to make Youth Stop AIDS as strong as it can be.
Meet the Steering Committee!

Christina Berry – Moorcroft; Public Relations and Media Coordinator


Hi I'm Christina, an activist who is passionate about the part young people can play in influencing change on a global stage. I am the Public Relations and Media Representative on the Youth Stop AIDS Steering Committee. I've volunteered with Restless Development on numerous programmes, both in the United Kingdom and internationally, including on a programme that involved challenging perceptions of international development.
I have held public and media relations and campaigning roles with other lobbying and social justice organisations. I want to use this experience to help campaign members promote our mission and work across media platforms, to garner as much support for Youth Stop AIDS as possible. If you need any help with engaging with the media and publicising the brilliant progress you are contributing to, then please do not hesitate to get in touch. You can reach me via email (c.berrymoorcroft@gmail.com), I look forward to working with you.
Cristian Sandulescu; Person Living with HIV and connected to HIV organisational networks
Hi, I'm Cristian Sandulescu, a 29 year old, HIV positive man and activist. I was the UK speaker on last year's Youth Stop AIDS Speakers Tour, which was the most exciting and challenging thing I've done lately. This year I'm back to support the campaign as a Steering Committee member. Some other roles I hold include being a Patient Representative at Mortimer Market Centre and a Peer Mentor for Positively UK. I also sit on the ReShape Steering Committee, act as an advisor for NAT and have recently ventured in to international advocacy waters. I will be using my experience and expertise to promote the Missing Medicines campaign and champion the meaningful involvement of people living with HIV in activism and beyond. When I don't do any of these things I cycle through London and sometimes through sleep. I would love to hear from you!  You can contact me via email on peer.cristian@gmail.com.
Georgia Hunt;Inclusivity co-Coordinator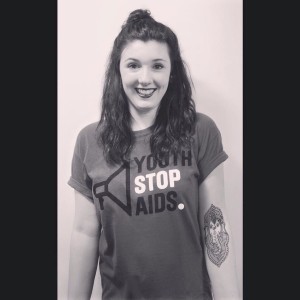 Hi, I'm Georgia and I'm one of the Inclusivity Coordinators on the Youth Stop AIDS Steering Committee. I started working with Youth Stop AIDS after volunteering with Restless Development in Zambia. Whilst in Zambia I worked on projects about sexual health and rights and became inspired to fight for access to medicines for everyone, everywhere. My role involves ensuring that voices of the otherwise ignored are brought forward. It is important to me that marginalised groups are represented in the campaign. My particular interest is encouraging participation from people of all backgrounds in the UK and I am committed to helping you overcome any barriers you may have to participation. Please feel free to get in touch on georgiahunt68@outlook.com.
James Barker; Inclusivity co-Coordinator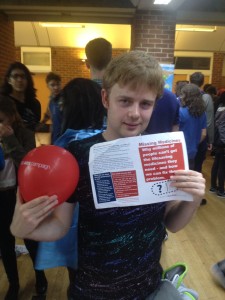 Hi I'm James and I am one of the Inclusivity Coordinators for the Youth Stop AIDS Steering Committee. I am studying an MA in Sexual Dissidence at the University of Sussex. I have come to AIDS activism through my personal involvement and commitment to supporting LGBT+ people and feminism. I would like Youth Stop Aids to reach out to marginalised groups: such as LGBT+, women and BAME (Black, Asian, Minority, Ethnic) who are particularly at risk of HIV both nationally and globally.
We need to develop sensitive and effective ways of involving these groups in our campaigns; this will mean taking on their campaigns and their issues as our concerns. In this way we can develop a more intersectional network. I would also like to look at inclusivity on an individual level and get more people involved in the campaign in a way that feels comfortable to them. If you feel like you can help in this, or would like support from myself, then please get in touch.
Matthew Lines;

International Citizen Service (ICS) Representative
Hi, my name is Matt and I am the ICS representative for the Youth Stop AIDS Steering Committee. My role is to provide support for any ICS volunteers that want to get involved with Youth Stop AIDS, complete their action at home or set up their own local group. I previously volunteered for Progressio ICS in Zimbabwe and would love to help out any ICS volunteers interested in the campaign. Please don't hesitate to contact me on matthewlines@live.co.uk if you need anything!
Claire McHugh; Universities Allied for Essential Medicines (UAEM) Representative
Hi, my name is Claire McHugh and I'm a second year medic at Newcastle University. I'm relatively new to Youth Stop AIDS but I am really excited to get involved this year in the great campaigns lined up! I first learnt about Youth Stop AIDS after hearing Newcastle's previous steering committee member, Shayo, talking about all of the interesting things she was getting involved in through Stop AIDS and all of the great things that they were doing! After attending the leaders training for 2015/16 in York earlier this month, I was really motivated by all of the people I spoke to there. The weekend gave me lots of great ideas about how I can get involved with Youth Stop AIDS and promote this year's main campaigns!
I am a member of the society UAEM (Universities Allied for Essential Medicines). UAEM share a lot of similar goals as Stop AIDS, for example improving access to medicines. This year I hope to act as a representative for Stop AIDS within UAEM, and help the two societies to collaborate skills and resources to achieve their aims! I also provide close support to the Youth Stop AIDS Newcastle group led by Emma – get in touch with myself (c.mchugh@newcastle.ac.uk) or Emma (emma.rainey95@hotmail.co.uk) if you want to get involved. Looking forward to meeting you all at the next national gathering!
Tom Canning; Medsin Representative

Hi I'm Tom and I joined Youth Stop AIDS this year, just before kicking off my ICS adventure in Zimbabwe. Feeling empowered by my time conducting development work, which had a focus on HIV, I decided to take on a challenge here in the United Kingdom. I am now running the University College London Youth Stop AIDS campaign, as well as coordinating the London network. As a Steering Committee member, I'm the contact point for anything related to one of our partners – Medsin. I will take a lead in everything Medsin related: be it training, cooperation or if a Medsin branch would love to get involved. Aside from Youth Stop AIDS, I'm a neuroscience student at University College London and the charity officer for our swimming team. Feel free to contact me on thomas.canning.12@ucl.ac.uk.
Abbie Hunter; Events and Comms Coordinator
Hey, my name's Abbie and I joined Youth Stop Aids (YSA) after volunteering internationally on the government funded ICS scheme with VSO in the Philippines. I mention this because it was upon returning that many more opportunities presented themselves to me, one being the likes of the YSA national gathering – a weekend wherein I became so motivated by the cause and the contacts I'd made I put my name forward for communications and events on the steering committee (so I had every reason to stay thoroughly involved!)
My role in events and communications boils down to taking the lead on ensuring our internal and external comms are live, up-to-date and exciting, and making our events bigger and more impactful. Please do get in touch if you'd like to coordinate over your future events and/or stunts so we can do just that
Kate Bowmar; Student President Representative (Exeter, Glasgow and Aberdeen)
Hi everyone! I am a third year Biology student studying at The University of Manchester, UK. I am the treasurer of the Manchester Youth Stop AIDS society, and also a steering committee member for 2015/2016. My role within the steering committee primarily involves being a support figure for the Exeter, Glasgow and Aberdeen Youth Stop AIDS societies, ensuring the presidents of these societies have everything they need to make their campaigns successful, and helping them in any way possible to spread the message of Youth Stop AIDS. As a steering committee member I also campaign for Youth Stop AIDS, spreading awareness of our Missing Medicines and trade petitions, lobbying MPs, and the importance of being tested for HIV!
Brandon Pieters, Student President Representative
Hi, my name is Brandon. I am the regional rep for the north of England, so you can contact me about any issues around the national campaign, events, or anything in general. Ill be responsible for collaboration and co-ordination across the north. I'll also act as a go between for societies in the north and Restless Development. If you have any queries, or want to discuss any ideas, give me a shout!
Florence Goddard: South England Representative
Hi, I'm Florence, the Steering Committee representative for the South. If you live in the South or want to know what's going on in the area, I'm here for any help, support or information you need. I was the Youth Stop A|DS Campaign intern in 2014 and have stayed involved with the campaign ever since. I'm also a member of ACT UP London and the Western Europe representative for the Global Youth Coalition on AIDS. I live in London where i'm currently studying politics and development studies at SOAS.
I am passionate about securing affordable and effective treatment for everyone and ensuring that no one is left behind in achieving this. I also have a particular interest in the effects of HIV on women and mental health, so do also get in touch if you're interested in these areas. You can contact me on florence@gyca.org
James Cole; STOPAIDS Youth Trustee
At the STOPAIDS AGM in late October I was elected onto their Board of trustees as a representative of the Youth Stop AIDS movement. It's my responsibility to bring the Youth Stop AIDS perspective to STOPAIDS. I'm really interested in hearing from you and the other people young people in your networks – so that we can shape the future of STOPAIDS in our collective vision. If you have any ideas for the future direction of STOPAIDS or want anything raised to the board – please do drop me a message (james.cole1994@yahoo.co.uk)!